Beyond plastics: a German entrepreneur thinks he can build a new industry on Louisiana's faltering petrochem sector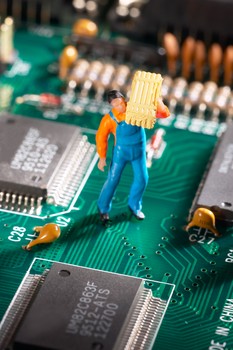 Sprawling chemical and plastics plants, mountains of processed sugarcane waste and a sluggish economy. To Max Zaher, it all adds up to opportunity.
In the fall of 2002, Zaher was deciding where in the United States to set up a business. A German engineer with 25 years working in composites and laminates, he considered Connecticut, New York, Pennsylvania and Wisconsin before jotting off a blind e-mail to officials in Louisiana.
Only one response came back: Mike Marcantel from the Baton Rouge-based Louisiana Partnership for Technology and Innovation, which arranges seed capital.
The next spring, Zaher came to Louisiana to meet Marcantel. Soon after, Marcantel resigned to join Zaher in setting up DeMaxZ, LLC (the "De" is investor Murry Decoteau). Zaher became CEO and Marcantel COO.
If DeMaxZ can fulfill its promise, it may make Louisiana the center of an entirely new business that would emerge from petrochem.
[ILLUSTRATION OMITTED]
"It's the most upside-down thing I've ever heard," laughs Jones Walker attorney Robert Tucker, who handles DeMaxZ's patent work. "Every other industrial business is leaving."
The plan is to sell Zaher's specialized materials processing know-how to the big plants around Baton Rouge. DeMaxZ knows how to combine thermoplastics and cane fiber into materials that can be used to make floors, car components, counters, cabinetry, doors, decking fences and window frames.
Many of the businesses that use composites are leaving. The United States is the largest market in the world for finished wood-based products such as flooring, furniture and construction supplies, according to the U.S. Department of Agriculture. But it is also the world's second-largest exporter of wood. For Zaher, it's a no-brainer to simply do the production in America.
One problem is that U.S. companies use a very expensive method to make composites, Zaher explains. "They use wood flour. That makes tooling and injection very difficult. Our materials will use cane refuse and be much easier to produce."
Among the natural advantages offered by Louisiana for Zaher's business is a limitless supply of bagasse, the cellulose left over after sugarcane is processed.
"It's the best fiber in the world," he says. "In Germany, we import it from Asia."
Herman Waguespack, an agronomist with the American Sugar Cane League, recalls many attempts to reuse bagasse. It has been composted, burned for fuel, turned into ceiling tiles and insulation, processed into paper and used as fiber extender in concrete.
"The challenge is how to make it profitable," he says.
A big problem is removing sand, soil, and moldy bits of sugar from the fiber. Zaher has a process to remove those impurities inhouse, and Marcantel says cane farmers will finally be able to make money selling it.
Zaher also knows secrets to surface treatments that American companies do not. "Every surface must be treated. And they just cannot do surfaces here."
Much of America's exported wood goes to Europe as wood flour, where it is laminated and shipped right back as laminate flooring. Europeans became lamination experts because they ran out of timber decades ago. Fiber composites and high-quality laminates have been the only options there since the early 1980s.
Many American laminates still use 1930s technology that relies on formaldehyde-based materials, making them dangerous to process, landfill, and burn.
DeMaxZ uses nanotech surface chemistry and molecule-sized robots in the lamination process. It produces surfaces that are more scratch-resistant than typical laminates, as well as being recyclable and cheaper to produce.
John Snow, who manages product quality for Texas-based laminate-maker Wilsonart, says he is unaware of any company in the industry in the country that uses nanotech. There are only four laminate makers in the United States.
DeMaxZ also needed to be near its potential clients. It plans to operate through joint ventures with big materials processors such as Dow, Exxon or BASE Zaher will sell the chemistry, the process engineering, and the machines--which will be built in Germany--to his partners, and he will train their people.
Zaher's company is now in contract negotiations with its first big partner. Although he will not yet name the company, Zaher says it is one of the biggest plastics manufacturers in the country.
The only actual manufacturing DeMaxZ will do at its plant will be the prototypes of the composites and laminates for which it sells the know-how. The partners will handle manufacturing and sales.
To produce the prototypes, DeMaxZ needed to be near both the cane and the plastics. And to get materials in and out, Zaher needed the interstates and an international port and airport.
Those factors all triangulated on Hammond, where DeMaxZ is negotiating on an option on a shuttered 40,000-square-foot building. At full capacity, it will employ 35 to 40 people.
The first employees will come from Germany, where the machinery is already being built. The facility is scheduled to open by July 2005, and Zaher predicts it will quickly attract nearby investments from suppliers. In the meantime, the company operates out of a Southeastern University tech incubator.
Though business taxes are often cited as a reason companies stay away from Louisiana, Marcantel says "the market opportunities far outweighed those considerations." And even in a climate of fierce competition among states for new businesses, Louisiana met Zaher's needs so well that he needed no government incentives or inducements to locate here.