Equipment, Supplies and Services - A-G - wine industry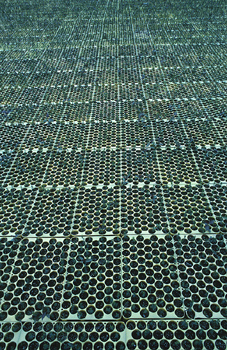 Since 1979 Wines & Vines has published this Equipment, Supplies and Services issue for two reasons: to acknowledge the growing number of suppliers who provide the goods and services necessary to create today's unparalleled quality of grapes and wines, and to help our readers stay abreast of exactly what is available to help them achieve their goals in the vineyard, winery or marketplace.
We chose the November issue because the most recent Northern Hemisphere crush should be complete, and industry players are now planning and budgeting for the next vintage.
Of course, we realize that the following compilation is incomplete, and listings are included as space allows. If we don't know you exist, or if you missed our deadline, your company is not listed. If you would like to be included in the future, please contact us.
What follows, then, is a list of companies, their contact information and brief descriptions of new products and services available to help keep winemakers and winegrowers prosperous.
201 S. Wisconsin Ave.
Stratford, WI 54484
Phone: (715) 687-4332
Fax: (715) 687-3225
E-mail: efehrenbach@abprocess.com
Web site: abprocess.com
A & B Process has recently expanded into a fourth plant specializing in modular skidded systems for industries like the wine industry that require high-purity equipment. For more information, contact Eric Fehrenbach, inside technical sales rep. or Ron Herman, marketing director.
APM, INC.
441 Industrial Way
Benicia, CA 94510
Phone: (800) 487-7555
Fax: (707) 748-1899
E-mail: info@apmglobal.com
Web site: apmglobal.com
APM has completed major investments in its cork manufacturing and its wine bottle distribution businesses. New process technology allows control of cork moisture and lubrication coatings with unprecedented precision. A new state-of-the-art glass inspection and repack line enables efficient packing of imported specialty wine bottles while assuring the product meets customer quality needs. For more information, contact Dennis Ayde, VP sales, West; or Mark Bassel, VP sales, East and Canada.
ARS/PRESSURE WASHER COMPANY
12900 Lakeland Rd.
Santa Fe Springs, CA 90670
Phone: (562) 946-3505
Fax: (562) 946-4120
E-mail: info@arsenterprises.com
Web site: cleanwinery.com
New this year is the SWASH[TM] all-purpose cleaning and sanitizing system, which cleans, sanitizes and sterilizes tanks, barrels, bottling lines, plus vineyard and winery equipment. For details, contact Jim Hall, sales; Jack Martin, service or Glenn Caster, marketing.
ABEC FILTRATION SYSTEMS, INC.
10-1 County Line Rd.
Somerville, NJ 08876
Phone: (866) 345-8378
Fax: (908) 575-0770
E-mail: sales@abecfiltration.com
Web site: abecfiltration.com
Abec now has its own tine of filter cartridge housings at introductory prices. Contact Peter Abec or Linda Pingitore for more information.
ABLE LABEL, INC.
3808 N. Sullivan Rd., Bldg. N-14
Spokane, WA 99216
Phone: (800) 348-1455
Fax: (509) 922-4854
E-mail: sales@ablelabel.com
Web site: ablelabel.com
The company has expanded its stock sizes of durable synthetic labels and tags, and is now prepared to offer even more choices for barrel tracking labels and tags, preprinted to your specs or blank thermal transfer stock for your in-house systems, with 24-hour turnaround. Contact Dick Shanks, president or Terry Butcher, VP.
ABOVE SCALE COMPANY
2104 Catskill Way
Sacramento, CA 95838
Phone: (800) 200-9970
Fax: (916) 921-5267
E-mail: eganrk@netzero.com
Web site: abovescale.com
Above Scale has added FlexWeigh to their product line: a full-line manufacturer of filling, weighing and conveying machines and instrumentation. For imaginative solutions to material handing needs, contact Rhonda Taylor or Jordan Rosen.
ACCUVIN, LLC.
1205 Peach Canyon Rd.
Paso Robles, CA 93446
Phone: (805) 237-0412
Fax: (805) 237-0412
E-mail: info@accuvin.com
Web site: accuvin.com
New products include a device for pH testing in grape juice, must and wine, plus additional products for malic acid and titratable acidity testing. Contact Michael Miller for details.
ADVANCED AERO VAC TECH
P.O. Box 777
Glen Ellen, CA 96442
Phone: (707) 537-7217
Fax: (707) 537-7274
Web site: aquair.com
The company has added glycol chiller kits. Owner J.H. Geiger is your contact.
AFFILIATED EQUIPMENT FINANCING, INC.
1945 N. Fine Ave, Ste. 110
Fresno, CA 93727
Phone: (800) 776-9550
Fax: (800) 326-2112
E-mail: michelle@goaffiliated.com
Web site: goaffiliated.com
Affiliated now offers qualifying programs for the president's stimulus package, with accelerated write-off. For details, contact Michelle Mathias, Charles Shaheen or George Wade.
AGAJANIAN VINEYARDS
1722 Canyon Run
Healdsbuxg, CA 96448
Phone: (707) 433-6654
Fax: (707) 433- 6684
E-mail: gary@agajainan.com
Web site: agajanian.com
The company offers wine grape procurement service for small to medium-sized wineries throughout the United States, with a quality assurance program. For information, contact Gary Agajanian or Chris Lindelof.
AGGREKO
160 W. Industrial Way
Benicia, CA 94510
Phone: (707) 746-8812
Fax: (707) 746-8068
E-mail: george.white@aggreko.com
Web site: aggreko.com
Now available are low-temp chillers and stainless steel food-grade heat exchangers. Your contacts are George White, PE., Chris Scango and George Schalk.
AGEAQUEST, INC.
1530 Drew Ave.
Davis, CA 95616
Phone: (530) 750-0150
(800) 962-8980
Fax: (530) 750-0153
E-mail: info@agraquest.com
Web site: agraquest.com
Agraquest has added Serenade AS[R] Aqueous Suspension Biofungicide to its product list.
AGRICULTURAL ELECTRONICS CORPORATION
P.O. Box 50291
Tucson, AZ 85703
Phone: (520) 624-7656
Fax: (520) 624-9720
E-mail: wgensler@phytogram.com
Web site: phytogram.com
The company has developed an improved internal vine water content monitor which permits the grower to set a desired water content profile throughout the season, a target deficit water content at harvest and a post-harvest rehydration level. Profiles can be compared from site-to-site and season-to-season to achieve optimum wine quality For more information, contact W. Gensler.
AGRO-K CORP.
8030 Main St.
Minneapolis, MN 55432
Phone: (763) 780-4116
Fax: (763) 780-4316
E-mail: info@agro-k.com
Web site: agro-k.com
New this year: Vigor-Cal-Phos, a foliar calcium "phosphite" material designed to stimulate growth in vines suffering from various diseases including Pierce's disease, phyiloxera and phythothora. Contact Dr. Harry Rajamannan, Larry Shafer or Chapman Mayo.
ALASCO RUBBER & PLASTICS CORP.
1250 Enos Ave.
Sebastopol, CA 95472
Phone: (707) 823-5270
Fax: (707) 823-5270
E-mail: alasco@fix.net
Web site: alasco.com
Now offering the Dalco tine of barrel closures including the Dalco Dual, a fermentation bung that converts to a solid hung. Also new, the Alasco Mold & Seal Gun, a two-part food-grade silicone sealant system for malting tank gaskets and seals. Contact Don Montgomery sales and marketing, or Mike O'Hern, general manager.
ALFAKLEEN CHEMICAL LABS
840 Capitolio Way
San Luis Obispo, CA 93401
Phone: (800) 676-0059
Fax: (805) 541-3467
Web site: alfakleen.com
New this year: AK-020 Concentrated cleaner! degreaser, USDA approved. For more information, contact Buzz Hill.
ALFORD LABEL
1733 Monrovia, Bldg. W
Costa Mesa, CA 92627
Phone: (949) 631-1833
Fax: (949) 631-1739
E-mail: billhuey@alfordlabel.com
Web site: alfordlabel.com
In 2002 the company completed many new design-to-completion label projects, including hot stamp, embossing, variety of colors and more, servicing wineries of all sizes. Contact Bill Huey or Steve Biscagila for more information.
ALPINE SCIENTIFIC
4322 El Macero Dr.
Davis, CA 95616
Phone: (530) 756-6082
Fax: (530) 756-8406
E-mail: revenson@pacbell.net
New this year are the Infrascan alcohol analyzer, Profil automated spectrophotometer and other analytic tools. For information contact Ron Evenson.
AMERICAN AGCREDIT
200 Concourse Blvd.
Santa Rosa, CA 95403
Phone: (707) 545-1200
Fax: (707) 545-9400
E-mail: hindley@agloan.com
Web site: agloan.com
The company now offers online banking. View accounts, check balances and transfer funds from your computer. Your contact is Lindsay Wurhtzer, regional VP.
AMERICAN GRAPE HARVESTERS
5778 W. Barstow Ave.
Fresno, CA 93722
Phone: (559) 277-7380
Fax: (559) 277-7385
E-mail: aghinc@internet-zone.net
Web site: aghinc.com
Now available: BO-Rods for most brands of grape harvesters. AGH Spectrum Harvester with the Mantis picking head. "Full Contact" SO-Rods to improve harvest speed and quality Contact: Robbie Roberts.
AMERICAN TARTARIC PRODUCTS, INC.
1865 Palmer Ave.
Larchmont, NY; 10538
Phone: (914) 834-1881
Fax: (914) 834-4611