Poly Wrapping: It's In The Bag - discussion of equipment available and how it works, U.S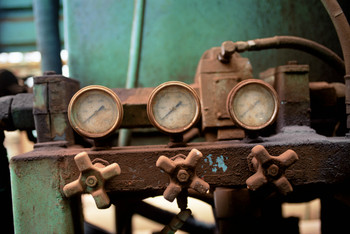 Poly wrapping, or poly bagging, involves wrapping a single sheet of film around a book, magazine or catalog. It usually does not involve shrinking the polyethylene film around the package. (Shrink wrapping refers to wrapping and heat-shrinking products in olefin film.)
Protection and postal savings are two key motives for poly bagging a publication. Subscribers expect their magazines to arrive unravaged by mail-handling systems. Cover coatings do offer scuff resistance, but nothing protects like a poly bag.
Recent postal-regulation changes also permit the addition of ride-along pieces in a poly bag at a much lower rate than if they were mailed separately. The content of these pieces previously had to be closely linked to the main piece in the poly bag, but that's no longer the case.
Poly wrappers range in cost from $150,000 to more than $500,000. Some machines just feed and wrap a book, whereas complex models can feed a main book or publication, selectively address and onsert several additional pieces, and add a CD prior to wrapping.
General-purpose packaging machines may suffice for low-end applications. All you need is a simple infeed equipped with a shuttle feeder. ARPAC (Schiller Park, IL), STG DoBoy (New Richmond, WI), FMC (Chalfont, PA), Shanklin Corp. (Ayer, MA) and other vendors offer equipment that can run polyethylene film at 60 to 120 products per minute.
High-volume poly wrappers are offered by ARPAC, Hugo Beck (distributed in the U.S. by Homer, MI-based Rennco), Buhrs Americas (Plymouth, MN), CMC (Lewis Center, OH) and SITMA (St. Paul, MN). A basic high-speed system - four to five product feeders and a counter stacker - costs about $300,000.
High-end poly wrappers range in speed from 5,000 to 10,000 products per hour. Large systems can be more than 100 ft. long. The thicker and heavier the product, the slower the machine will cycle - more manpower is also required. A long-run job with a thin, lightweight product will run at about 250 products per minute.
HOW A POLY BAGGER WORKS
First, film-former rails wrap the film around the media with an overlap on top of the product from one inch to 2.5 inches, creating a tube of polyethylene film with the product inside.
Next, a heated element seals the middle of this film overlap, creating the seal. A driven upper pressure belt and a lower transport belt "pull" this sealed film tube (with media inside) through a traveling heated knife assembly called a cross-sealer. The cross-sealer now seals both ends of the bag. Voila! A poly bag is born.
The traveling cross-seal knife is the most sophisticated part of the machine, since the product (and film) transport belt runs directly through the knife assembly on guide rollers.
When the knife cuts through the overlapped film, it must do so with high pressure and heat, so it comes down on an air-loaded counter-seal bar that dampens and absorbs the force much like a shock absorber. The dwell time, or the amount of time that the knife is in contact with the polyethylene film, is fairly short, and is a function of running speed and bag height and length. At 18,000 cph, contact lasts only a few milliseconds.
GATHERING SECTION
A poly wrapper is composed of a gathering section, a poly-wrapping section and downstream modules. The gathering section is a series of base frames featuring a gathering pusher chain and various types of media feeders. Shuttle feeders are used for heavy books and magazines; rotary, gripper-suction feeders are used for lighter onserts. Inserting systems, consisting of suction cover openers or mechanical ploughs, can open the media so that a piece can also be inserted into the main product.
The gathering section permits feeders to be easily dismounted and moved into different positions on the base frames. In the old days, the 300-lb. feeders had to be moved using a forklift and lift chain, a process that took at least 30 minutes. Today, servo-driven feeders, mounted on their own portable bases, can be quickly rolled up to docking positions.
The gathering section also can incorporate many different dedicated components, offering such capabilities as addressing the product prior to wrapping. Base modules can be equipped to support a paper label-head or inkjet printer. A variation of this, a stand-off feeder, can feed a piece of media from the side of the machine (at 90 degrees) and under an inkjet printhead. This allows inkjet text to be oriented in the same direction as the pre-printed sheet.
Special product placers can feed and dispense CDs or other product samples onto the collated set. Turn-over devices can be placed on the gathering section to completely turn the product from back cover to front, depending on what is to be added to the product set.
HEART OF THE SYSTEM
The poly-wrapping section is the heart of the machine. It incorporates the film, film unwind, product transport belt and the main cross-sealer. A built-in eject gate ensures that a "sausage" of still-connected products isn't sent downstream where it could jam a second addressing table or counter-stacker. Photocells measure the length of the product immediately after the cross-sealer and open the eject gate for products that are too long.
Many processes are happening simultaneously on the wrap section: The film is being unwound under tension and fed via angle bars to the wrap-section table. At the wrap section, product from the gathering section is transferred onto the flat film, which is then folded over the books or catalogs. Transfer of the product from the gathering section to the wrapper must be precise, because both product spacing and speed change from one section to the other.
Products are collated at fixed spacing from 18 inches to 22 inches. But if you kept this spacing for the poly-wrapping section, you'd have an awfully long poly bag! On the wrapper, spacing changes to product length, within one or two inches. Keeping product evenly spaced through the transfer process is critical. Uneven spacing can cause a cross-seal fault, triggering the eject gate.
DOWNSTREAM MODULES
Once a bag has been created on the wrapper section, the product can be sent to several different downstream modules:
*
A post-wrap addressing module can apply a label or inkjet directly onto the poly-wrapped piece. Polyethylene-film manufacturers must treat the film to make it suitable for printing, however. Corona-discharge treatment creates microscopic pits on the film surface for ink adherence.
*
Most poly baggers create an overlap seam on top of the product. A turn-over module turns a poly-bagged product over so that the address can be affixed to the non-seam side.
*
Compensating counter-stackers use sorting software to produce neat, ZIP-sorted bundles that can be easily palletized or put into mail sacks. Counter-stackers eliminate operator bottlenecks at the end of the poly wrapper and are best suited for high-speed, long-run applications.
*
A variety of automatic loaders for different feeders are available. They make operators' jobs easier while enabling the poly wrapper to run faster.
Smoother shipping solution
How do you prevent transit marking? "Choose the proper carton size," advises Frank Shear, president, Seaboard Bindery (Woburn, MA), and co-author of "Binding, Finishing, Mailing: the Final Word." "Printed products should fit snugly - without corners being damaged - and be filled to the top of the box. Loosely packed books slide around in cartons and mark easily."
Pallet wrappers also offer excellent protection against shipping damage. The automated wrapper system shown on this month's cover is in operation at Berlin Industries (Carol Stream, IL). Vice president of operations Bill Hoffman had found a similar model at the Lantech (Louisville, KY) booth at a trade show, and had a system customized to suit Berlin's needs.
The pallet first goes through a Lantech Model 200-90 tunnel wrapper, which wraps the top, bottom and two sides. The pallet then is pulled along a conveyor to a Model 2500 horizontal wrapper, where a mechanical arm circles around and wraps the sides.
According to Hoffman, Berlin required an automated wrapping line to increase capacity and reduce costs. "We could wrap about 21 skids an hour with four people doing it the old-fashioned way. We also had to band a large amount of product before wrapping on our floor-model wrappers," he explains. The exec notes that the Lantech pallet wrapper, on the other hand, only requires one person to operate. Berlin has wrapped more than 50 skids in an hour when needed.
Hoffman says Berlin achieved fast ROI on the wrapper because of the manpower cost savings: Three people x four shifts, with more than twice the output.
Poly-wrapping equipment options