Router Trimming Solution suits plastics industry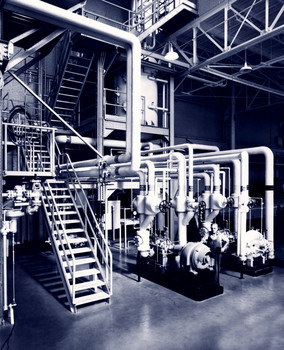 RoboTrim(TM) RT-400 provides portable, pre-engineered router trimming and knife deflashing solution that can be used by thermoformers, injection molders, blow molders, and rotational molders. Mounted on single base, modular system accommodates part sizes to 45 x 45 x 36 in. and is designed to use FANUC-based RPT R-44A 6-axis robot. Auxiliary-axis, servo-controlled rotating table offers 60[degrees]/sec motion for rotating part as robot is trimming.
********************
AUBURN HILLS, Mich., September 8, 2005 - Robotic Production Technology (RPT) today introduced a new portable, pre-engineered router trimming and knife deflashing solution designed specifically for the plastics industry. The RoboTrimTM RT-400 system is a portable trimming system that can be used by thermoformers, injection molders, blow molders and rotational molders. The flexible RoboTrimTM RT-400 features a servo-controlled table that has the ability to rotate the part as the robot is trimming. This allows each side of the part to be trimmed in a very compact work cell. This modular system is mounted on a single base and can be easily moved to various locations around a manufacturing facility with quick set-up.
Robotic Production Technology will officially introduce the product to the public at the 2005 SPE Thermoforming Conference in booth # 546.
"Robotic Production Technology continues to grow in the plastics market by introducing new products in the routing area which has historically been dominated by CNC machines," said Kevin McManus, president of Robotic Production Technology. "Manufacturers are finding the flexibility and reliability of robotics are key reasons to move away from industrial CNC machines."
The key benefits to the RoboTrim RT-400 system are portability, part height capability of 36", increased throughput, more uptime due to high reliability, improved flexibility and enhanced safety. These features combine with RPT's legendary 24/7 customer support to provide end users with outstanding quality and productivity.
"We're excited to introduce yet another standard RPT system for the router trimming and deflashing markets. The RoboTrim RT-400 system features the increased productivity and flexibility that our customers have benefited from with the RoboTrim RT-1000," said Chuck Russo, CEO of Robotic Production Technology. "The new RoboTrim RT-400 addresses the needs of manufacturers with small parts and portable needs."
Standard
The RPT RoboTrimTM RT-400 is designed to use the FANUC-based RPT R-44A 6-axis robot and an auxiliary-axis, servo-controlled rotating table, featuring a 60-degree per second motion on the servo table with a maximum part and fixture weight of 250 lbs. The system can accommodate part sizes of 45" W x 45" D x 36" H. The RPT RoboTrimTM RT-400 features RPT RouterWareTM application software to make the system easy to use and comes equipped with the FANUC Robotics color screen iPendant. Its single-base construction makes it easy to install and move within a manufacturing facility. The system is ready to run once it is leveled and power and air are connected, with no need to lag it to the floor. With proper advanced planning the user can relocate and start-up the system in minutes, dependent upon how far the system is being moved.
Options
Options include automatic tool change that enables a six-second tool change time, alternative spindles in single- and dual-ended configuration, patent-pending RPT Compliant Knife, and part fixtures designed and built by RPT. Manufacturers can also add RPT/FANUC Accuracy Enhancement software tools and RPT TrimProTM offline programming software.
RPT's Standard Systems
RPT introduced the RoboTrimTM RT-1000, designed for trimming of 3"x 5" parts, in late 2004 and has had great success in the plastics market, shipping more than 20 systems to date. More information on this product can be found at www.rpt.net. A DVD and a technical datasheet on RPT's routing products are available by visiting www.rpt.net or calling 248.829.2800. Manufacturers are also invited to visit RPT to see a demonstration of the new system.
Robotic Production Technology is a turnkey robotic systems solutions provider to the plastics industry for 20 years. Industries served include aerospace, appliance, automotive, composites, construction, consumer goods, marine and plastics industries. The company specializes in high path accurate trimming applications such as router trimming, deflashing, laser cutting and scoring and waterjet cutting. RPT also has process expertise in material dispensing, assembly, joining, material handling and welding. Capabilities include project management, engineering, simulation services, fabricating and machining, system integration and certification, software, training, service and support. Since 1985, RPT has been a leading manufacturer of flexible manufacturing systems utilizing multi-axis robots, with an installed base of more than 2,400 robots. Robotic Production Technology can be found on the Internet at www.rpt.net or by calling 248.829.2800.