When Bigger May Not Be Better - National Plastics Exposition virtual display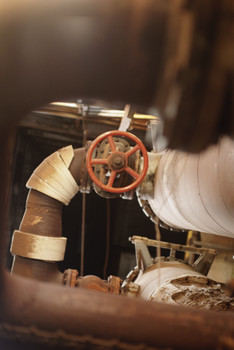 The big event at this year's National Plastics Exposition wasn't the rollout of a new product line or the announcement of a major merger or acquisition. The news was what one company decided not to bring to the show, held in June at Chicago's McCormick Place.
Milacron Inc., a leading player in the plastics industry, has traditionally hauled behemoth production machines from its Batavia, Ohio, plant to the Chicago show floor. A few machine components were brought along for good measure this year, but otherwise the Milacron exhibit was strictly a virtual experience.
Milacron relied on multimedia kiosks, live feeds to customer plants, and large video plasma screens to bring its product lines, services, and customer experiences to attendees.
"The machines were starting to get in the way of taking our total-services message to the customer," explains Thomas Jarrold, manager of marketing services at Milacron. "When customers came into our stand, they would immediately go to the machines, and the sales force would immediately focus on the machines. It distracted from the experience that we are a one-stop, full-service company."
If Milacron's experiment catches on with other exhibitors, organizers of heavy-equipment and manufacturing shows could take a big hit in the pocketbook as booth sizes shrink. It wouldn't be great news for the exposition business, already enduring declining attendance and slashed exhibitor budgets.
All About Money?
For Cincinnati-based Milacron, the new approach was a definite boost to the bottom line. Milacron saved an estimated $2 million in not having to haul the heavy machinery from its plant in Ohio. It could have gotten by with less exhibitor space this year and will reduce its needs going forward.
"The footprint will definitely decrease in size," Jarrold says of Milacron's exhibitor space needs for the next show, which will be held in 2006. "We weren't sure what to expect. But the customers seemed happy. The sales staff was satisfied. We sold $24.7 million in products at the show. The results exceeded our expectations."
Critics say that a multimedia experience can't replace seeing products and machines up-close and personal. "We're a heavy equipment show," says Jordan Morgenstern, vice president of trade shows with the Society of the Plastics Industry Inc., Washington D.C., which sponsors the NPE show every three years. "Obviously it could be a cost-savings factor. But will people buy your equipment?"
He says attendees want to see big metal in action - to kick the tires, as it were. That means lots of floor space is needed. Lots of power for the machines. Lots of jobs behind the scenes to get the machines there, to set them up, and to keep them powered.
Attendee Views
William Arendt, a senior staff scientist with Velsicol Chemical Corp. in Northbrook, Ill., was an attendee at the NPE 2003 show. He visited the Milacron booth and spoke with a staff person there." I can remember the things I saw at the Engel booth, such as their high-pressure water injection molding machine," Arendt says. "I can't really remember what Milacron talked to me about that they thought was innovative." What made all the difference for him was the ability to see machines in action, to experience the features first-hand.
"Seeing things on a screen is useful, but it's not the same. It's not what you really pay your money for," Arendt says.
Bill Wood, a plastics market analyst based in Greenfield, Mass., attended this year's NPE show and others in the past. He notes that attendance overall was down from 2,000 (the record high), but still strong, and the Milacron booth seemed busy throughout the show.
"I thought Milacron made their point, and made it strongly," Wood says. "What a show is really about is the flow of information between the seller and the buyer. In past shows, the center has been around the machines. This was an attempt to get more information to the customer on how to improve their processes. It was a conscious effort to expand on the customer relationship and customer service."
He expects Milacron will make some improvements to the technology showcase for the 2006 show. And he expects other companies to follow suit. He goes so far as to predict a 10-fold increase in the use of multimedia to replace actual machines at the show.
"For fresh out of the gate, I thought this was outstanding, especially the live feeds," Wood says.
David Weldon is a freelance writer and a former editor with Computerworld.